Welcome to Lands of Lore Wiki
The wiki about the
Lands of Lore
series of video games by
Westwood Studios
that anyone can edit!
1,502 articles and 2,197 images since November, 2021
Featured Article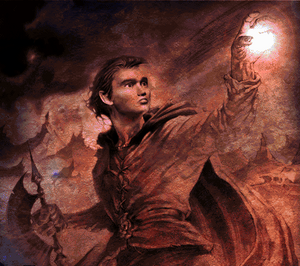 Copper LeGré is a Human-Dracoid hybrid, heir to the throne of Gladstone and protagonist of Lands of Lore III.
During the Dark Army Wars the commander of the White Army Lord Eric LeGré the White, brother to King Richard LeGré, came upon and performed a kindness to a young half-breed Dracoid dancing girl named Vernilla, whom he had met in the tavern he frequented during the first siege of Cimmeria. Amid the darkness of war, their relationship blossomed and she bore him a son - Copper. When the armies retreated, Eric returned to Gladstone and left Copper to be raised by his mother.
Around the time Copper turned age fourteen, his mother passed away and he set out to Gladstone to reunite with his father and discover the other half of his heritage. Although Eric accepted him upon his arrival, others did not. His stepmother, Carmen Chevres LeGre, her two sons Mark and David, and the Royal Councilor, Jeron Couchon, all regarded him as a potential rival for the throne of Gladstone. He spent the next two years making his lodgings at the Blue Deer Inn in Lower Gladstone, occasionally going on public outings with his father, however scandalous.
At the age of sixteen, when the time came for the great Wild Boar Hunt (a LeGre family tradition) Copper insisted on attending. While his father was obliged, his half-siblings were incensed and even sought out The Draracle, by now long gone and masqueraded by his familiar Jakel, hoping to rid themselves of him. Not long after, the four of them set out for the Gladstone Woods with Copper and his two half-brothers arguing bitterly to the point of nearly exchanging blows when Eric ordered them to stop so that the hunt could commence. Suddenly, a green aura appeared near the camp they were staying and out came a pack of strange interdimensional beasts who proceeded to maul Eric, David and Mark to death while Copper, frightened and confused, fled into the woods. As he neared the edge of a ravine, a sole Rift Hound caught up with him and took him in his jaws, violently thrashing him back and forth during the attack tearing the very soul from Copper's body.
Copper awoke the next morning, bloodied and unsure of what transpired the night before. He retrieved his backpack, a small rusty knife and a journal before making his escape past a Cave Spider to relocate his father's camp. He was soon met with two of Gladstone's Guards, Frank and Dimple, who informed Copper of his father and brothers demise, causing him to faint. When he awoke he was inside Gladstone Keep being tended to by mistress Dawn. Dawn explained that the creatures who attacked his family had been loosed through a Portal World that opened recently and that she had placed a spiritual ward rendering Copper "immortal" until he could relocate his missing soul.


Featured Image
Did You Know?
Did you know...
Related Wikis
Help
Need help building out this community?
You can also be part of the larger Fandom family of communities. Visit Fandom's Community Central!